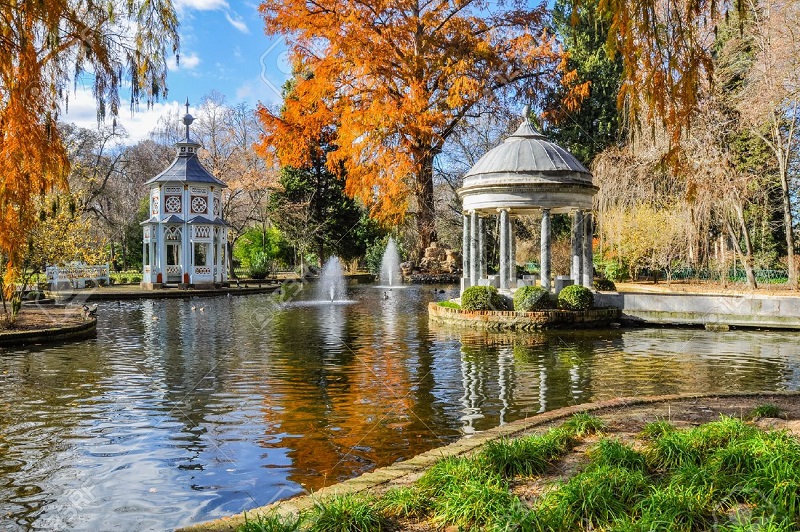 Madrid Hidden Gems
December 9, 2019 0 comment
Toward the end of C/Alcalá is a hidden park that plenty of locals and tourists have no idea is there. La Quinta de los Molinos would be just another park in the Spanish capital if it weren't for the fact that inside are 6,000 almond trees that create quite the spectacle for the senses when they're in bloom. Shades of pink and white paint the garden, and the intoxicating aromas float over walls and around the park during the months of February and March.
Ángeles Rodríguez Hidalgo
Ángeles Rodríguez Hidalgo was a granny in Madrid's Vallecas barrio who discovered her love for heavy metal when she was already getting on in years. She immediately won the affection of fans, audiences, and the general public when she was seen rocking out at AC/DC concerts and frequenting spots that were anything but nursing homes. She even managed to get her own section in 'Heavy Rock' magazine. Following her death in 1993, a bronze statue was erected in her honor at C/Peña Gorbea, 22, and there she stands with her handheld high in the shape of horns typical of metalheads. Today the statue is missing the index and little finger, so unfortunately she kind of looks more like a Communist grandma than a veteran rocker.
Basílica de San Francisco el Grande,
Next to the Basílica de San Francisco el Grande, in La Latina, lies this small park, divided into several beds of dahlias. Overshadowed by the majesty of the adjacent church, this viewpoint is one of the best and quietest places in Madrid to take in a beautiful sunset. The 'San Isidro' group of sculptures, designed by Santiago Costa, presides over the area. An ideal spot for a romantic rendezvous.
When you're strolling through Malasaña you'll come across plenty of galleries, but none like Kikekeller, a place where everyday objects merge with art to surprise you with unique pieces. But the real secret of this space reveals itself when the lights go out and night falls. In the back room is one of Madrid's trendiest secret bars, where the city's most modern and hip meet for a few G&Ts. Just bear in mind that exclusivity doesn't come cheap.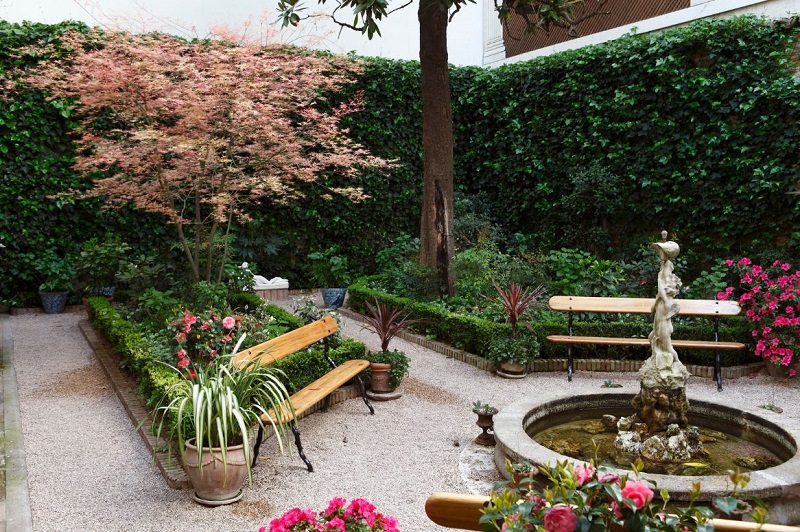 Hidden away in an enclosed garden is this lovely café and tearoom, where you can get home-made cakes and pastries – perfect for breakfast or a snack. The garden café is in the Museo del Romanticismo, an ideal setting for those partial to the work of Gustavo Adolfo Bécquer, Goethe, Lord Byron, and Rosalía de Castro. The museum houses a lovely collection of more than 1,600 pieces, including furniture, paintings, crockery, pianos, and more, which have been available for public viewing once again since 2009 after a massive remodeling.
The Bosque Encantado ('Enchanted Forest') is a botanical garden that deserves more than one visit. Its originality doesn't lie in the more than 500 plant species from around the world that it houses but in the sculptures of impossible sizes that they've managed to create with the greenery. From elephants, giraffes, and dragons to horse-drawn carriages, locomotives, and a rock band, dozens of green statues seem to be about to come to life throughout this magical park located in San Martín de Valdeiglesias, 75km from the centre of Madrid.
Madrid is full of statues that, if you don't look closely, can appear to be sweeping the floor in Plaza Jacinto Benavente or taking a stroll near Plaza de San Ildefonso. But of all of them, the one with the best backstory is the statue of Julia, a young student who you'll find leaning against the stone wall of the Palacio Bauer (C/Pez, 42, at the corner of San Bernardo), in Malasaña. The bronze sculpture that shows a young woman in a skirt and blouse standing barefoot and holding schoolwork is a tribute by Antonio Santín to the first woman who, despite the ban of the time, disguised herself as a man to attend the University of Madrid in 1848. If your Spanish is up to it, check out the very short video (under nine minutes) depicting the story: 'Tras Julia'.
In a forgotten corner of Plaza de la Paja, in the La Latina neighbourhood, you'll find this hidden garden. A brick wall keeps prying eyes away from the Príncipe de Anglona's best-kept secret: the garden he used to stroll through when he lived in the adjacent palace back in the 19th century. A small stone fountain in the centre of the enclosure is the starting (or ending) point of several stone pathways. The park also features an iron arbour and a pergola that transforms into a colourful rose garden in the warmer months. Large trees provide shade throughout the park, and since it's on a bit of a hill, from the higher end you can get beautiful views of the surrounding neighbourhood.